The Circle of Monarchs – An Institution of the People
All chapters of The Rising Winds have a monarch, among other officers. These monarchs serve many purposes at the local level, and have an equally important role in the goings-on of their Kingdom.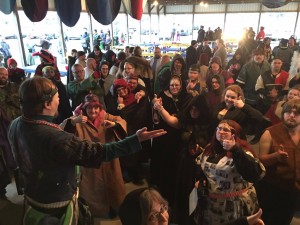 At every Rising Winds kingdom event, the Circle of Monarchs meets after Saturday Feast and Court. The Circle of Monarchs discusses the individual health of chapters currently in the kingdom; having the voting power to make many chapter modifications, including but not necessarily limited to:
-Chapter promotions and demotions between Shire, Barony and Duchy statuses.
-Allowing Freeholds to join the kingdom.
-Removing chapters from the kingdom for frequent violations of the Corpora or Rulebook, inactivity, or other reasons.
In addition to chapter health, the Circle of Monarchs may be used by the Kingdom officers to distribute awards to players not handed out at Court for various reasons, such as the player not being present or the officers having too many awards and not enough time to distribute them. The chapter monarchs would take home the awards and give them to the receiving players at the next park day.
The operations of the Circle of Monarchs are officially defined in The Rising Winds Corpora.